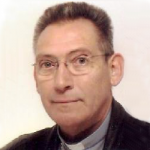 As part of our focus on prison ministry during Prisons Week, we caught up with Rev Father Paul Bartle-Jenkins who is Assistant Anglican Chaplain at HMP Bristol (previously known as Horfield Prison).
Father Paul is also Assistant Priest at St Agnes Church in the inner-city parish of St Pauls, Bristol.
Ive been making prison visits for over 35 years.
As a teacher, I had many pupils who would get into trouble and I couldnt just leave my sense of responsibility at the school gates. I also taught at Kingswood Secure Unit for young offenders. Years later, Ive baptised some of their children!
I went forward for ordination and enrolled with the Probation Service at the same time.
The catalyst was a pupil at the school I taught at: he was wrongly arrested for a street robbery and spent his fifteenth birthday (Christmas Day) inside. Ironically, prison gave him a lack of confidence in justice and society. Later on he turned to hard drugs so he was in and out for years afterwards. Now he's working, clean and standing on his own two feet.
Prison chaplaincy is about being alongside:
following a serious incident recently, two Muslim inmates asked me to pray with them. The work is about listening, praying and counselling as well as leading worship. Guilt, frustration and loneliness can be intensified but each persons problems in prison vary as much as peoples outside.
Love the sinner and hate the sin.
I've known murderers, rapists, drug dealers, thieves, wife-beaters and paedophiles. The maxim is easier said than done.It's also easier when you get to know the person. The likes of these people are still around; we pass them in the street, we drink with them in the pub.
I spent a year on death row in Trinidad.
I was there on holiday and was appalled to read in the newspapers that a whole gang was to be hanged. I spent much time in prayer for one of the condemned and began to make visits. In 1999 I moved to Trinidad to serve as rector for a year at Point Fortin in Port of Spain where I continued this work . Another prisoner I worked with there has been reprieved and lives in a maximum security prison but his daughters just emailed me asking for marriage advice!
Christ says:
Come, you who are blessed by my Father; take your inheritance I was in prison and you came to visit me Truly I tell you, whatever you did for one of the least of these brothers and sisters of mine, you did for me. (Matthew 25:34-40) Anyone with a heart for this should link up with Prison Fellowship. Prayer is the basis for all they do but there is more. Also, MentorMe is a great scheme for those rehabilitating.