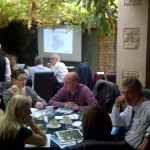 What does Christian education look like and how is it better? This was the question asked last week at the annual Headteachers Conference for the Dioceses 69 schools.
The day opened in worship, led by Bishop Mike who spoke about St Pauls teaching on the renewal of the person by Christs transforming of the mind. This set the theme for guest speaker Prof. Trevor Cooling of the National Institute for Christian Education Research.
Prof. Cooling took the delegates through several workshops on how Christian values may permeate schools, improving their atmosphere, standards and Christian character. His teaching method What If learning is a gentle way of nurturing the whole child.
It works to instill these values, encouraging an appreciation for the value and meaning of things. Also, it says that the Christian traditions of hospitality and enquiry mean that Church schools should privilege dialogue over making claims on truth.
Headteachers said they felt challenged and inspired. The National Society, which inspects Church schools religious distinctiveness, tightened the requirements last year for schools to prove their Christian character. The workshops showed ways of achieving this while raising standards and progress at the same time. Closing the day, the Chair of the Diocesan Board of Education (DBE), Ann Holt, spoke about the new expectations the Church has put in front of both DBEs and clergy which were laid out at the Archbishop of Canterburys seminar in July. She reported the Bishop of Oxford, chair of the national Board of Education, as saying that engaging with the schools in a community must be a central part of clergys business.
The Bristol DBE is committed to the Church's original intention when it began founding schools across the country 200 years ago to serve the poor, whether that poverty is material, emotional or spiritual.
John Swainston, the Diocese's Director for Education, thanked all delegates and speakers for attending. He put out a call for those who have experience in school governance to come forward to be parachuted into schools which get into difficulty, as and when this happens. John also affirmed Bristol DBEs commitment to meeting the expectations the Church has of it better RE, more training for Foundation governors, taking responsibility for standards.