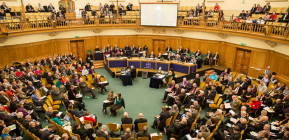 A statement from the Rt Revd Mike Hill, Bishop of Bristol, and the Very Revd David Hoyle, Dean of Bristol, in response to the debate at General Synod on the Bishops' report following the shared conversations:
The outcome of the recent debate on the Bishops' report following the shared conversations has potentially serious consequences for the Church of England, not least the unity of the Church. Our archbishops have already noted that we face a real challenge in how we deal with the real and profound disagreement.
We felt that it was important to seek to make a statement, together, from our different perspectives, following this vote.
We are both reassured to know that there are already processes in place to continue a necessary conversation and pursue a deeper theological reflection on what it is to be fully human. The archbishops have spoken of the need to fashion a new, properly informed, and radical Christian inclusion in the Church. We look forward to sharing in that debate.
We recognise that there is hurt and distress surrounding the disagreements we have had, and that the hurt and the distress is being felt most deeply by some who engaged in the shared conversations. We share that distress. We reaffirm our recognition that the gospel calls us to a common humanity in Christ and to the joyful celebration of good and flourishing relationships.
We are committed to truth, and to living in hope and love where there is disagreement. With our archbishops we commend to your prayers our common concern for every member of this church, of all views, and most especially our concern for the mission of God to which we are called by the Father, for which we are made ready by the Son, and in which we are equipped by the Holy Spirit.