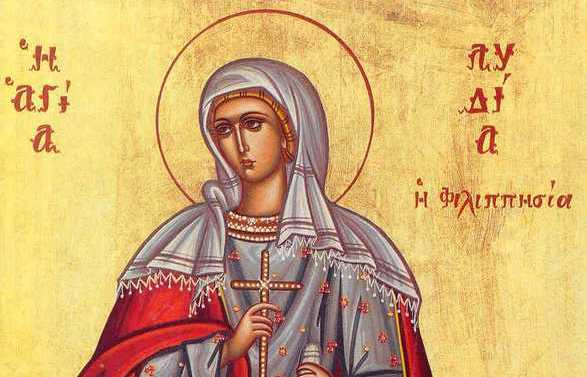 Revd Canon Nicola Stanley, Precentor of Bristol Cathedral, considers the purpose of Icons.
My favourite Christmas present? An icon of St Lydia! The gift was from a pilgrim who joined a recent pilgrimage I led to Greece, travelling in St Pauls footsteps.
The first Eucharist we celebrated was in the open air by the peaceful river in which Lydia was baptised by Paul 2000 years ago. A gentile, Lydia was the first person baptised on European soil. Unusually for a woman, Lydia earned her own living by trading in expensive purple dye.
Icons aid our prayers and inform our understanding of the key figures in our faith: Christ himself, the Virgin Mary, angels and saints. Icons arent intended to be accurate representations of their subjects; they are stylised depictions which are written, by people of faith working in a prayerful, almost meditative state.
Icons contain rich symbolism and must be read for example the colour gold represents heaven, green the earth, lilies the Virgin Mary and so on. De-coding the symbolism in icons is time-consuming - and utterly fascinating!
Known as windows to heaven, icons can inform our faith and enhance our prayer life. Gazing at the icon of Lydia, the image invites me to recall with thanksgiving my own baptism, I pray for all our pilgrims and for the Greek people and their country, I reflect on the position of women today and imagine the very different world in which Lydia lived and worked. I pray for St Lydia and the whole company of heaven, and ask them to pray for me.