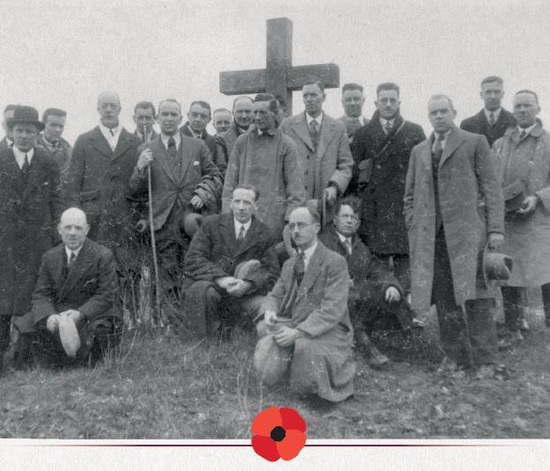 In August 2014, Bristol Cathedral began telling the stories of some of the men from the Diocese of Bristol who died during the First World War, one for every month of the conflict.
In a new book, published by the Cathedral and Bristol Books and supported by the Heritage Lottery Fund (HLF) thanks to National Lottery players, their stories and photos are collected together as a lasting memorial to their sacrifice. The extraordinary stories of these ordinary men give a poignant voice to the many tales of First World War experience and are a reminder than by remembering one, we remember the many. The book also contains many strikingly poignant images, some published here for the very first time. The book is on sale in the Cathedral Shop, priced 5.
The Very Revd Dr David Hoyle, Dean of Bristol, said: "For nearly three years now, we have lived with We Have Our Lives and a daily reminder of the impact the First World War made on this city and diocese. That has been a privilege and we are delighted we can now share it in printed form. This is a moving and important record of the way an international conflict made an impact on streets and towns we know well.
We Have Our Lives has been published by Bristol Books, a not-for-profit Community Interest Company was formed by four people with a passion for Bristol to meet the huge demand for local stories about the city and the South West through the years. Stories in the book include that of Eric Welchman, one of the first British officers to be killed in the war, Douglas Reynolds who was posthumously awarded the Victoria Cross for retrieving and destroying British guns under enemy fire so that they couldnt be used by the opposing army, Noel Atkinson who died in an unfortunate aeroplane accident and 16 year old William Clements who was working on hospital ship Llandovery Castle when it was sunk by a U-boat.
The books publication forms a key part of a project made possible by National Lottery players with funding from the Heritage Lottery Funds First World War: Then and Now programme which provides funding a community organisations of all sizes to better understand the First World War, uncover its stories and explore what it means to us today.
We Have Our Lives is on sale in The Cathedral Shop priced 5. The Cathedral Shop is open daily 10am to 4pm and 12 noon to 3pm on Sundays.