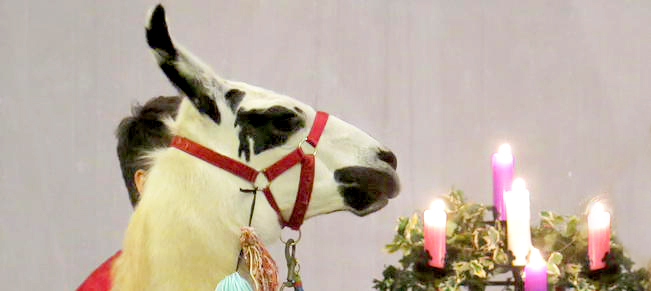 Llamas carrying wise men took part in a special service at All Saints Church, Bristol.
The animals were part of the Epiphany celebrations at the Clifton church. In Western Christianity, the feast of Epiphany commemorates principally (although not solely) the visit of the Wise Men or Magi to Jesus.
Father Charles Sutton, vicar at All Saints, said: Clearly, theres a great deal we dont know about the Magi. The gender, number and names of the Magi are all unknown.
We can only make guesses to how they travelled, with whom and on what - though it is more likely that the transport was camel rather than llama.
Whichever explanation we go for regarding Epiphany, the core truth remains the same. We are journeying to connect with the Word made flesh, in this world, in this community and in the people who live around us.
The llamas were also part of a procession around the streets near to All Saints Church, managing to stop shoppers and traffic alike.
Charles added: Whilst we discovered that llamas could walk faster and further than we imagined, the procession was slow and held-up with frequent interruptions. People came out of the shops, pub, and hairdressers to ask questions and take pictures.
Traffic came to a standstill as one road was blocked with a white van whilst the driver collected photographic evidence of the event to take back to his children.