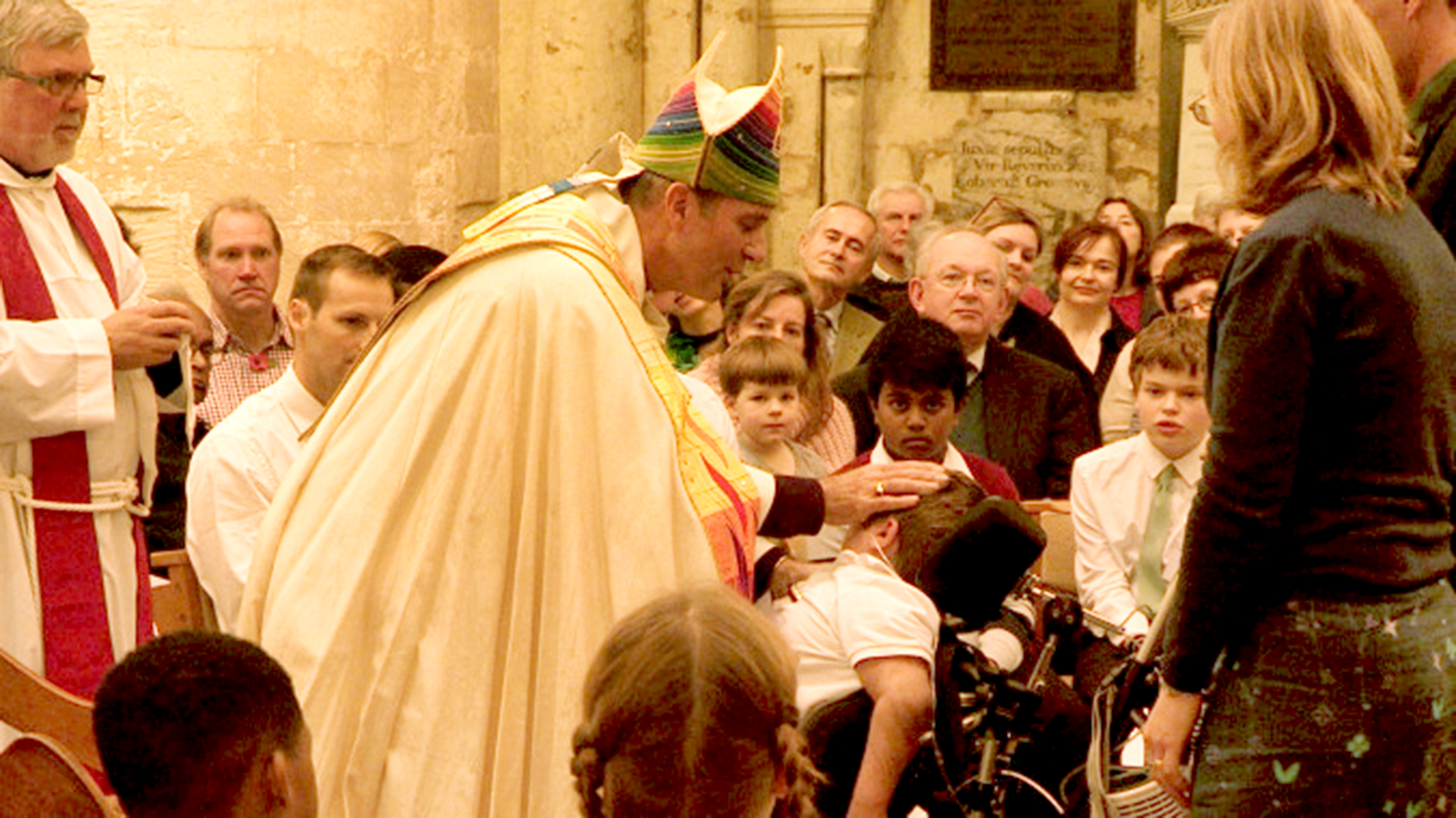 This month Bishop Lee tells how one boys life is having a transforming impact for the Kingdom of God.
Sometimes we come across a person who makes a deep and long-lasting impact on us someone who changes our attitudes, our understanding and opens our horizons. On 2 November 2016 this happened to me when I confirmed 10-year-old Jonathan Bryan at Malmesbury Abbey.
I first heard of Jonathan when he and the family moved from Lechlade and his father, Christopher, became responsible for the Gauzebrook Group of churches in North Wilts. What I knew was that Jonathan had a serious, life-limiting condition which I later discovered was the result of a car accident when Chantal was expecting him. The brain injury he sustained means that Jonathan cannot speak and has little control of his limbs. He has been wholly dependent on others for care throughout his life.
What did not begin to emerge until he was nine years old is Jonathans lively intellect and poetic imagination, his sensitivity and understanding, and his deep, sustaining Christian faith. We have heard of adults who are diagnosed as having Locked-in Syndrome, the result of a stroke or other illness; the frailty of his body and lack of a voice had effectively made Jonathan a locked-in boy. That began to change when his Mum took him out of special school to teach him to read and write. A year-and-a-half later Jonathan could spell everything he wanted to say, enabling his inspiring voice to be heard through using his eyes to spell out words.
For his Confirmation, Jonathan had written a testimony. This is what he said to us through his godfather:
"With Jesus as my Saviour, companion and friend, I have lived my hours here with happiness in my spirit and content calm in my soul. Knowing He is with me; cradling me in pain, sheltering me from darkness and beckoning me forward, has given me the strength and serenity to look life in the eye and smile. Like the constancy of the second hand of a clock, Jesus inhabits the quaver beats of my life; and as that beat slows, I look forward with excited anticipation to the day I will see Jesus; and live together with Him in His garden forever. In the meantime I cleave to Jesus; my faith and my life."
Jonathan entitled his testimony Living Life in all its Fullness and described the Confirmation as the best service of his life. It was truly one of the most memorable and moving of mine and since then I have been discovering more about Jonathan, and more importantly, learning from him. He has become a powerful advocate for other children who are finding themselves locked-in and unable to communicate who they truly are because assumptions have been made about their mental, spiritual and emotional competence on the basis of their lack of physical abilities. Jonathan describes himself as an ordinary boy yet he has met with a senior Minister with responsibility for special educational needs, raising the importance of children like him being taught how to read and write with the right support. Now a young man of 11, he is seeking to give a voice to voiceless children a vision with deep biblical resonance.
Reconciling the suffering, injustice and pain we see so much of in the world with a God of mercy, compassion and self-giving love, is probably the greatest challenge people have in coming to Christian faith. Jonathans description of living life in all its fullness, and how his trust in Jesus is being embodied so powerfully, bypasses the default philosophical and theological debates. Instead we are given a living word and a story told in a life, one which is about to touch a much greater number when My Life, a film produced for CBBC, is broadcast in February 2018. The significance of Jonathans faith may have been greatly limited in the final cut but we can be confident that his voice and witness to Christ will continue spreading out and touching many more lives: I dont know how long I will live, but I am determined.
+Lee