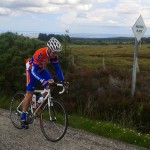 Three category 3 climbs, two category 4s and one category 5. This may all be meaningless to you but not to my legs! Essentially the lower the number, the tougher the climb and I was pleased to get them over this early in the Tour.
Rumours of downpours (at least for today) proved false but there was a soaking after 6 miles and 23 miles. I had just taken my rain gear off when the heavens opened again. After this I decided to stick with it for the remainder of the stage.
Hills and head winds were the story of the day. No matter how I tried - even on downhill stretches - the bike refused to go faster. Crossing the bridge at Dornoch Firth proved a real challenge as it went on for just under a mile and the wind whipped across it. However, like so much of the terrain today it was stunning.
Mike did a sterling job of steering me through a myriad of back roads. He would drive on ahead, suss out the lie of the land, and then point me to the relevant turn. This was critical as some of them were virtually guesswork. What we did discover was a number of bike routes, some excellent, which kept me away from the busier through ways.
This proved a three bidon day, as I got through 2 litres of fluid supplemented with carbohydrates and salts. I also consumed a banana, a peanut butter bar and a cycling gel. As we failed to find somewhere to stop for lunch this proved critical.
We did not reach Aviemore until gone 6pm and, after a warm shower, made our way along the 'strip' to find a restaurant. Mike is gluten intolerant so finding somewhere that has a good gluten-free menu is important. We ended up at the Cairngorm Hotel which had a separate and comprehensive menu to suit Mike. However, we both went for the liver, bacon and onions and it was very tasty - and with my Guinness provided plenty of iron for the little red cells.
Thanks for the response on the Virgin Giving page - creeping up but still a way to go - just like Mike and me.