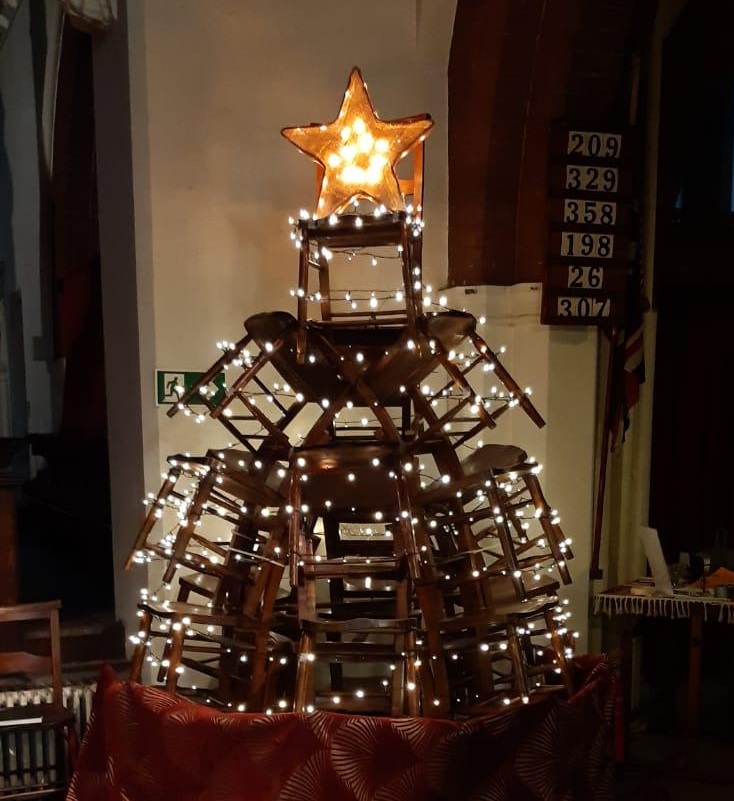 Going green proved the inspiration for members of St Martin's in Knowle when it came time to decorate the church building for Christmas. Clare Hensmen tells us how they came up with the idea - and how other churches could easily do something similar:
"So, what are we going to do about decorating the church this year?" we mused while sorting the recycling from the church cafe. "We need to make it a green Christmas with all decorations either living, recycled or recyclable".
When the churchwarden jokingly suggested using the broken church chairs, we all shouted "Yes!". So, with diagrams drawn on the backs of envelopes, I approached our standing committee to get the go ahead. That Sunday we heard the Bishop's call for the church to become more eco friendly and it was as if it was meant to be.
I rounded up my team of helpers: some of the more mature members of the congregation, including one with a garage full of tools, and some of the younger ones who had the energy to build the edifice. By the Thursday we had a pile of chairs securely screwed together which looked like ... well to some of our choir members who saw it on their way out from choir practice "a pile of chairs"! However other people were able to see where we were going with it. On Friday Ben, one of the younger, fitter members of the team, and I wrapped 500 lights around the 'tree' and placed a star on the top. Now we had a Christmas Tree!
The reaction from the congregation on Sunday was overwhelmingly positive. With comments ranging from "Wow!" to "I didn't even realise it was made from chairs from the back of the church" to "I'm glad I'm not inside your head, Clare!" We have even encouraged more of them to design smaller 'trees' for the windows around the church with the recycling of driftwood, wall paper, magazines and left over Christingle oranges as decorations.
Really you just need someone with a spark of an idea, someone crazy enough to take it on and access to Pinterest if you get stuck!