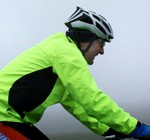 Rt Revd Dr Lee Rayfield, the Bishop of Swindon, has been diagnosed with Hodgkin Lymphoma, a cancer of the lymphatic system and will receive treatment in the months ahead.
Bishop Lee shared the news of his diagnosis, which he received at the end of August, in his bi-monthly letter to people in the Diocese of Bristol, and asked for prayers for him and his family as he starts chemotherapy on Wednesday 4 September.
The diagnosis did not come as a complete surprise to the Bishop: he had had an enlarged lymph node removed from behind his ear last summer and another identified in his neck, neither of which appeared malignant at the time. By June this year, the latter had increased in size and clinical investigation has revealed it to be cancerous. Hodgkin Lymphoma is a solid tumour that, if untreated, will spread to other organs.
Bishop Lee reflected on the feeling of frailty he had experienced as he had initially undergone tests. I acknowledged those feelings to myself and to God, recognising that experiencing the reality of the situation was healthy and probably a gift.
The four cycles of chemotherapy and short course of radiotherapy in the months ahead are likely to produce side effects of fatigue and risk of infection, necessarily meaning he will be absent from public ministry.
Bishop Lee had been due to begin a period of Extended Study Leave in mid-September starting with a sponsored cycle ride from John OGroats to Land's End in aid of Leadership Development in Uganda. A keen cyclist, well known for his fitness and healthy lifestyle, he noted the paradox to be spending so much time in the care of the NHS. He was gutted to have to put this along with plans to learn from other dioceses about their experiences of growth on hold.
Responding to the news, Bishop Mike said, Lee has taken this news with characteristic faith and courage. He is to be commended for his witness at this time of uncertainty and suffering.
We take courage from the fact that God has gifted doctors and nurses to take care of Lee. We also pray that God would directly put his hand on Lee and restore him to full health. We look forward in faith to his recovery.
Bishop Lee concluded, I am very conscious of the impact on Liz, my family, and others who love and care for us.
We shall be grateful for your prayers over the coming weeks and months. Perhaps as you pray for us you would remember in prayer those unnamed and unknown people of our diocese who do not have the care and support around them that we do.