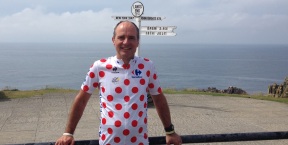 The Bishop of Swindon, the Rt Revd Dr Lee Rayfield successfully completed his epic bike ride from John O'Groats to Land's End.
Two weeks and 959 miles after leaving the furthest tip of Scotland, Bishop Lee arrived in Land's End on Saturday 19 July, followed by his trusty companion and supporter Mike Palmer.
The bike ride was undertaken to raise moneychallenge for a cause Bishop Leeis deeply committed to the development of church leaders with Bristols link Diocese in Uganda. Bishop Lee has now raised more than half his target of 10,000 and you can still sponsor him at uk.virginmoneygiving.com/LeeRayfield.
Bishop Lee has been keeping everyone up-to-date with a daily blog post. In his final post he says: "Thank you so much for all the messages of support, for the prayers, encouragement and donations so far. We give thanks today for safe arrival, for strong bodies and no punctures!"
He also pays special tribute to his companion Mike: "It would have been impossible without Mike Palmer. He has been a true star in this venture, always ready to do the most menial tasks to support me and always thinking one step ahead.
Mike has spent hours working out the route and then adapting it as we went along; his contribution has been magnificent with reliability and unflappability as his middle names."