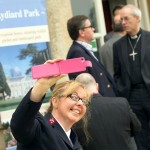 During his tour of the Diocese of Bristol, the Archbishop spent the first half of Saturday in Swindon. Rev Trudie Wigley, Vicar of the Dorcan Church in Swindon and a member of the planning group for the visit, shares her highlights:
"The Archbishops visit gave a huge boost to Swindon, a town which is not always on the map of places to visit!
"Everyone who met the Archbishop was touched by his humanity and ability to connect with so many different people. He is a great encourager and his visit left those who saw and heard him inspired and lifted. One young person at the Pinehurst fun day said, 'I cant believe someone like him chose to visit us on this estate. He was really interested in me and my dreams for the future. Wow!'
"We kept him busy in Swindon and his visit has deepened an already strong culture of churches working together. The (very early!) breakfast for church leaders of all denominations was inspiring where he encouraged to continue to 'just get on and do' as we join in with God's kingdom work."
Swindon Churches Together has already seen a birth of new church leader relationships and a genuine deepening of existing relationships and there is a growing list to come to our next breakfast!
"One thing that will stay with me was when the Archbishop visited the mobile youth van run by Swindon Youth for Christ with support from local churches. On the buss graffiti board was written the question 'What does an Archbishop do?' The young people had various amusing thoughts, but ++Justin wrote, 'He has the fun of talking about Jesus to everyone'.
"This is relevant to us all whether an archbishop or someone new to the Christian faith - and I pray his visit will be a lasting legacy of encouragement for us all to get out and talk about Jesus to everyone."