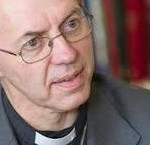 To help all churches join in and build on the excitement surrounding the Archbishop of Canterbury's visit to our diocese, video footage will be available shortly after his time with us.
Archbishop's sermon at the Cathedral Eucharist
Many churches would like to feature the Archbishop's sermon at Bristol Cathedral on Sunday 14 September as part of their own services the following Sunday. A recording of this will therefore be available on YouTube and to download from our website towards the middle of the following week.
Standing Room Only
Edited footage from our sell-outStanding Room Only event on Friday 12 September, featuring the testimonies of Archbishop Justin along with a number of Bristolians from very different backgrounds, will be available to view on YouTube and to download the following afternoon. This will be a brilliant resource for churches planning their own evangelism and faith exploration events.
General documentary
A short film will be also be available providing highlights from theentire weekend. Watch this space for more details. And do keep an eye on Facebook, Twitter and Instagram for all the latest updates and images during the visit. If you want to share your own comments and pictures, please use the hashtag #WelcomeJustin.