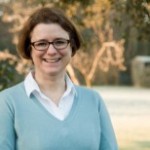 Buckingham Palace has announced that the principal of Trinity College Bristol, the Revd Dr Emma Ineson, has been appointed as a Chaplain to the Queen.
Queens chaplains are members of the College of Royal Chaplains, which forms part of The Queens Ecclesiastical Household. This largely honorary role involves preaching occasionally in the Chapel Royal in St James Palace, London. These chaplains wear a scarlet cassock and special bronze badge. There are currently 33 honorary chaplains to the Queen.
I am absolutely delighted to have been appointed as a chaplain to the Queen, Emma said about this honour. I look forward to serving Her Majesty The Queen and the Royal Household in this way.
The Rt Revd Mike Hill, Bishop of Bristol, said: Following her nomination, I was truly delighted to hear that Emma has been appointed as a Queens Chaplain. It is rewarding to know that her considerable gifts and character have been recognised in this way. She will be in my prayers as she takes up this extra responsibility. I am very confident that she will do well with this.