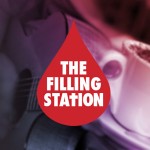 As it gathers momentum, we speak to Revd Nick Crawley to find out more about this growing [largely rural] ministry and what's been driving it.
Nick is Associate Director of The Filling Station, and explains why and how people can make use of the ministry in their own areas.
We're just finding that a lot of people are meeting God this way, and that's the key thing, that's why I think it's expanding so rapidly."
Revd Nick Crawley