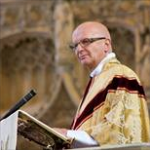 I was so grateful to everyone that came to the service on Saturday evening at Bristol Cathedral to mark the 10th anniversary of my time as Bishop of Bristol.
We had a great time worshiping God and encouraging one another in sharing the Good News of Jesus Christ. My particular thanks to the Dean and his colleagues for organising a really special service.
I have been equally humbled and encouraged by all the cards, emails and letters parishioners, colleagues and friends have sent me in recent weeks. Your encouragement motivates me to keep preaching the Gospel, in and out of season, and leading this wonderful diocese in the years ahead. For those who have written please forgive me if I do not reply individually but be assured of my most sincere thanks.