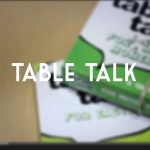 It takes the church out of an old church building and puts it out in the community where it needs to be - Revd Helen Baber
Talking about issues of faith outside of a church setting isn't always easy. But that is precisely what we are encouraging people to do this year with our focus on 'Creating Confidence in Evangelism'.
Table Talk is a brilliant resource for helping us do just that, and take church out of the church building.
It is described by its creators as a 'game of conversations', and its purpose is to create space for players to talk together about the big and not-so-big questions of life. There are currently 12 different versionsof the game and it's as an Appleapp or as aboxed version.
Lots of people across the Diocese have been trying out Table Talk in a wide range of settings; from house groups and clergy chapter to air cadet groups and gatherings in the local pub. Feedback has been very positive. In particular, people like the fact you can use the game in a very informal setting and that you don't need a facilitator.
"The cards went on the table and the time flew by," commented one user, while another said, "The questions stimulated conversation, both with established groups of Christians and with those who didn't know each other well."
In this short video, Revd Ian Wallace, Revd Trevor Denley and Revd Helen Baber talk about their experiences of using Table Talk...