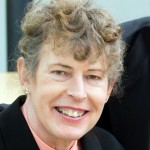 It was with great sadness that people in the Diocese learned of the death of Revd Carol Stone on Saturday 27 December, following a short battle against pancreatic cancer.
Ordained in 1978, Carol Stone served all her ministry in Wiltshire, in the dioceses of both Salisbury and Bristol.
Carol began her career as Curate at Holy Trinity Bradford on Avon from 1978 to 1981, and was then Rector of Corsley from 1981 to 1983. She was then Chaplain at Dauntseys School in West Lavington from 1983 to 1988.
Carol became Vicar of St Philips Upper Stratton and St Peters Penhill in 1996, where she remained until her death, and was very much loved by both congregations.
Bishop of Swindon, the Rt Revd Dr Lee Rayfield, pays Carol this tribute, Carol was an amazingly hardworking person and perhaps she worked too hard, as many clergy do.
She was a true priest who overcame a huge amount in her life and a huge amount with other people, and I'll remember her with great affection. Carol was someone who wasnt afraid to speak her mind. She told you what she thought and bishops werent immune from that.
Carol faced her diagnosis of pancreatic cancer courageously and with faith. I am going to miss her and I know many other people will.
Revd Tudor Roberts, Vicar of All Saints Lydiard Millicent, says, Carol was the friendliest person and never failed to say, Hello, how are you? and ask about our family and pets and the parish. She was fantastically hardworking and dedicated. I think at one time she had the record for the most baptisms carried out by any church or priest in a year!
Carol was one of a kind and her people loved her. I saw her before she died and she was incredibly brave and took refuge in her security in Christ.
Carol Stone's funeral will be at Christ Church, Old Town, Swindon on Monday 26 January at 12pm, followed by a burial and reception at the Community Centre @ Christ Church. All are welcome.
More: Bishop Mike's tribute to Carol