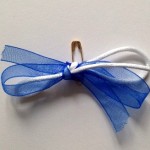 Residents of Swindon's Parks area have been showingtheir support forPeace and Unity in the Parks Community, following the death of Alison Connolly, by wearing special ribbons with blue for unityandwhite to represent peace.
St Johns Church invitedlocal peopleto aCoffee and Cake Day on Thursday 4June. All money raised from the ribbon and cake sales wentto Alison Connollys Memorial Fund, which has been set up by Pearce Funeral Services.
Revd Linda Fletcher says,We wanted to give people who live in Parks the chance to show their commitment to peace and unity in the Parks community following the tragic death of Alison Connolly. Her death has shocked our community, but what happened doesnt represent who we are or want to be.
"In wearing the ribbons and coming along to the coffee and cake day we tookthe opportunity to make a positive statement about Parks. We are for all people who need our support, love and prayers."