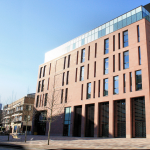 Bristol's Judges and Civil Courts have asked the faith communities to provide pastoral care to people in need in their courts.
Appearing in court is a highly stressful experience; people in court may be in the most desperate of situations. In addition to this anxiety, a proportion of people going through the courts are vulnerable or have special needs.
Revd Sarah Pullin, a Solicitor for the Bristol Law Society and Curate at St Stephen in the City, said:
"We've become part of God's transforming work in our city through people living out their faith 24/7 and praying in their workplaces. It's a privilege to seek to meet the needs of those in the courts by working collaboratively with other faiths."
Bristol's Civil Justice Centre deals with family and civil cases and has invited the initiative. His Honour Judge Stephen Wildblood, said; "People should have as much support as possible when exposed to these difficult times. It is during those difficult times that people may need support from the faith that they follow and the culture to which they belong. The idea of the multi faith support group is to ensure that those who seek that support are able to find it."
Can you listen to, support and pray with defendants, witnesses and their families? Can you help them connect with churches, family courses and caring organisations?
If you're interested in helping out for as little as half a day a month or more (no legal knowledge required), please contact Sarah Pullin - sarahapullin@btinternet.com