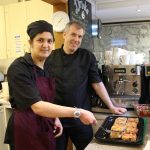 Working closely with groups in your community can open up plenty of new opportunities, as the Revd Lee Barnes at St Stephens Bristol can attest.
Last year, the church teamed up with the Brandon Trust, a local charity which helps people with learning disabilities. The result has proved positive not just for those directly involved with the new project but for St Stephens as a whole.
Lee said: At the beginning of 2015, I was chatting with a couple of people about the idea of making St Stephens a centre which could be used by the community in this part of the city.
We put together a vision morning and invited local groups and people from the community to come along. Over refreshments we shared our idea with them about what we wanted to do here. We asked anyone who had an idea about how they could be part of this vision to let the PCC know about it.
One idea came from the Brandon Trust, who wanted to run a caf at the church as a training place for adults with learning disabilities, who are working towards future employment.
The PCC loved the idea and soon the coffee shop, which had previously closed in 2014, was reopened, resulting in an instant knock-on effect for the church.
The impact already has been massive, said Lee. We have been able to open during the week as people are always here; more people are then able to connect with the life and activities of the church.
Missionally, I am a big believer that God can be at work through many different organisations. It is not just about church organisations but groups like the Brandon Trust which can be used by God for his work.
The key is making the connections with groups and individuals; it is about sharing your vision, inviting people to respond and seeing how those partnerships develop.
What next?
Make connections with groups in your area; attend some of their meetings and find ways you can help support them as a church.
Hold a vision morning and invite the local community to give you ideas of what they would like to see provided in the area.