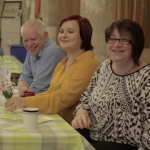 A rising number of Church of England parishes are providing help to people with problem debt, a new surveyhas found.
Families are facing enormous pressures to spend their way to a perfect Christmas, Church Urban Fund (CUF) is warning, as new figures were released showing a growing number of Church of England parishes are providing help to people with debt problems.
CUF is asking churches to consider the poorest families in the run-up to the festive season including those who face a struggle in the New Year to repay high cost loans taken out to buy childrens Christmas presents.
The charity has released an online survey showing nearly half of parishes are providing help to people in financial difficulties, compared to 41% three years ago.
More than a fifth of churches are running debt advice or budgeting courses with a fifth supporting their local credit union through measures such as encouraging membership, opening a corporate account or offering premises as a local branch or information point.
Many churches are looking to do more to support credit unions with 12% saying they are actively considering specific activities and 24% saying they are exploring these further. Most interest is shown in promoting membership, setting up access points and helping to run school savings clubs with a local credit union.
The vast majority of clergy surveyed said they believed that helping people to manage their money wisely is an important part of the Church of Englands mission.
The survey has been released as churches prepare for the start of Advent on Sunday (30 November), the season of preparation and reflection in the lead up to Christmas.
Canon Paul Hackwood, executive chair of CUF says: At Christmas, many families feel under enormous financial pressure to create the perfect Christmas.This short-term pressure often leads to long-term despair for the poorest in our society and it is very good to see the scale at which churches are already working to help alleviate some of these pressures."
CUF has released church resources and an online Advent calendar, with daily reflections, videos and prayers including moving personal testimonies from people involved in CUF-supported projects throughout the country.
You can find these at www.cuf.org.uk/advent.