I had achieved success in many areas of my life but my soul was restless and hollow.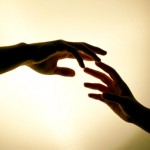 My husband David and I came toBristol back in December 2012 from Melbourne Australia to be closer to Davids daughter, grandchildren and great-granddaughter.
We had great plansto travel widely across the UK and Europe visit all those places we had not yet been to, but this was not to be. David was diagnosed with a heart murmur in February, had heart surgery in late May and died on 8 June 2013.
WhenDavidwas staying inFrenchay Hospital waiting for his operation, I would walk past this cute little church and I loved how compact and interesting the building looked. The welcoming coffee morning sign hung outside, and I would often thinkto myself how muchI would like to find the courage to open the door, but I carried on.
Then one Monday night, when I was visiting him in hospital, Davidsaid to me,"You looktired. Why dont you do something you want to do tomorrow?" And I knew exactly what that 'something' would be: the courage to open the door to this cute little church, where I then realised God had been guiding me.
I opened the door to Christ Church in Downend and there to greet me was Lizzie; she was warm and friendly and had recently returned from Australia - how profound. Lizzie listened to my situation; Andy shared his experience of heart surgery; the love around the church was amazing. They told meabout the service at 10.30am, which I attended, and so began my return to faith and the start ofa spiritual journey of discovery thathad been missing from my life. I had achieved success in many areas of my life but my soul was restless and hollow.
At one of the services, God gave me a vision that I needed to prepare for Davids passing. At first I put these negative thoughts aside but now, on reflection, I see He was guiding and holding my hand all the way. Then he guided me to meet others like myselfwithin the church community and, with the assistance of Jan, Jill and Claire, the Friendship Circle was born, now to be called the LA Friends @ Christ Church Downend (thank you Jill), which means Living Alone and Loving Always.
Then I took part inthe Puzzling Questions course, led by Paul and Angie. It was an amazing six weeks of deep diving into the waters of your soul, hitting ocean waves together with others in the group, with awesome truth and honesty. It was the best course I have ever attended in my life.
The church community in Downend has been a major influence on my dealing with the profound grief when your partner and best friend dies, but this return to faith (although in its infancy), has enabled immense healing and acceptance.
God is now guiding me as I return to Australia to find closure and continue this journey of faith where a seed was sown at Christ Church, and is now growing wherever I am in the world.
The fellowship and friendship of the Christ Church community will be in my heart forever, but more importantly I can still stay connected as communicating across the world is no longer impossible.
About the author
Margaret has now returned to Melbourne, Australia and continues to keep in touch with her friends in Downend.
See also: