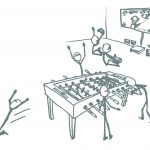 As part of the 'Creating connections' vision we have prioritised afresh Engaging with younger generations.
A programme of fantastic training opportunities led by knowledgeable trainers has been put together for 2017 to help church leaders to engage with key subjects within this priority.
Find out more
Click on the title to find out more about each session and to book:
Rooted in the Church : 15 May & 19 September
Learn 2 Listen : 24 May & 13 June
Baptism Matters : 16 November
Church for all generations : 9 May & 25 October
Connect with confirmation : 6 November
Download more details of the training on offer
For more information please contact Dan Jones, Diocesan Youth and Children's Advisor at daniel.jones@bristoldiocese.org or 0117 906 0100.