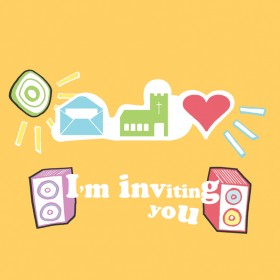 Three out of four Christians know who they would invite to church if they were prompted to do so. Churches need to make it easy for their members to ask and for their friends and family to respond in whatever way.
If our communities are to have the opportunity to respond to Jesus invitation, we must find ways to support each other in confidently and naturally inviting our friends and family to experience Christian community in its various forms.
A Season of Invitation helps Christians get into the habit of inviting friends and family to church. It encourages and supports invitations to a series of five accessible services from the autumn (Back to Church Sunday, Harvest and Remembrance) to Advent and Christmas, helping create that culture.
A workshop aimed at creating a culture of invitation in our churches is being run at locations across the Diocese on 20 June. The workshop will be presented by Michael Harvey, who has researched what it means to be an invitational Church across 18 countries. The workshop will be interactive and you will leave with best practice ideas to try out.
This two-hour training event will enable clergy, church leaders and others to learn about how to encourage congregations to make the most of the opportunity to invite people to church. It will will focus on:
Learning how to produce a unique mission field for your church at any given time.
Giving tools to identify distorted thinking in your church.
Discovering the creative power of fear.
Receiving a number of emotional mental and physical approaches for developing a culture of invitation.
Learning best practice from Season of Invitation
This event will run in Bristol, North Wilts and Swindon. Please click the location you would like to book a place on.
More information on A Season of Invitation can be found at the website.