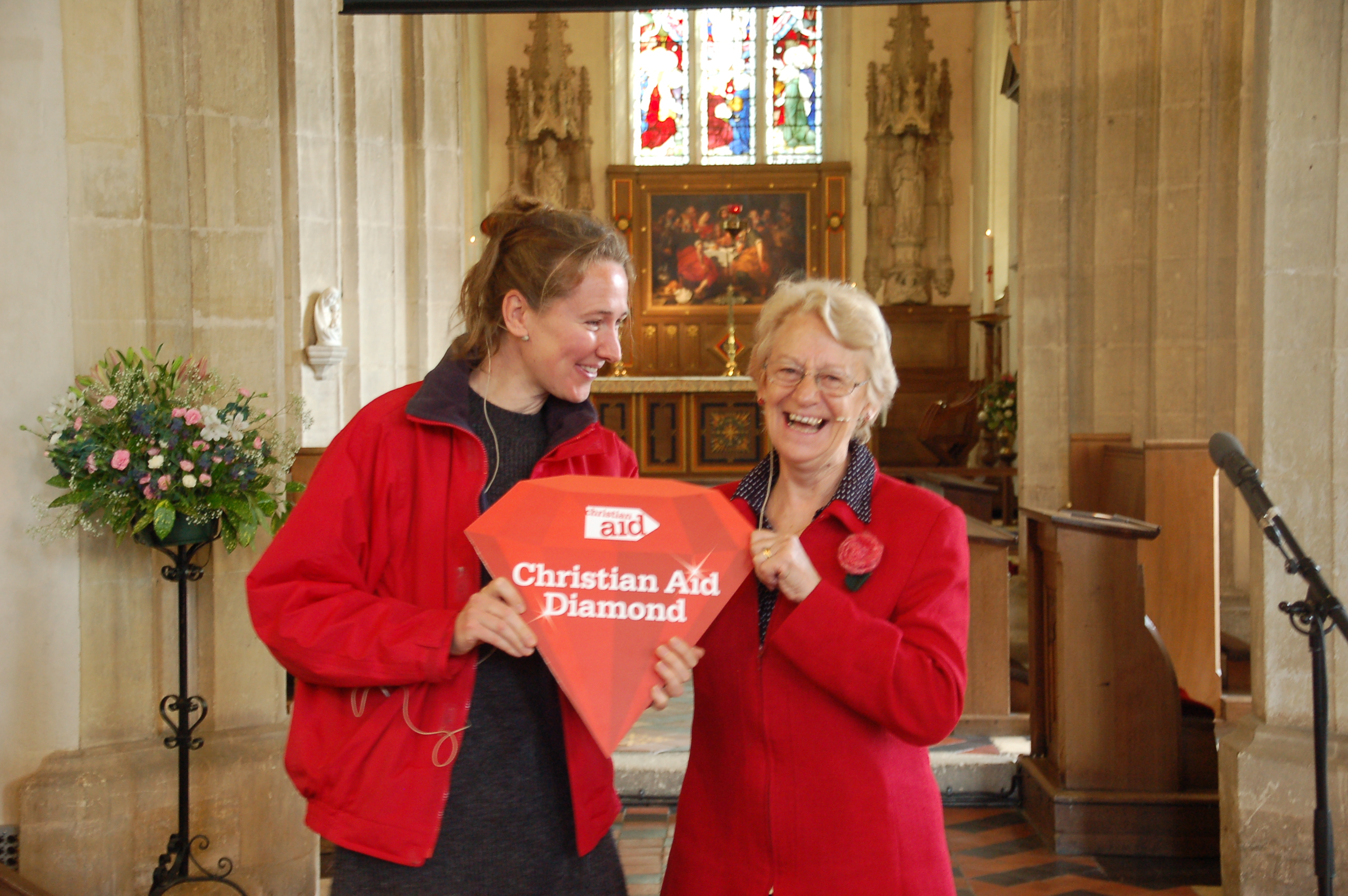 The energy and commitment of a Christian Aid supporter who attends St Mary's Church, Purton, has been recognised with a national award.
Libbie Sheppard, who has spent 40 years raising awareness of global poverty issues and funds to tackle it, was presented with a Diamond Award by Christian Aid representative Katrine Musgrave in church on Sunday (14 May).
The Diamond Awards were created by Christian Aid to recognise the crucial part played by supporters as it prepares to mark 60 years of its annual fundraising drive, Christian Aid Week.
Purtons Christian Aid Team has collectively raised over 110,000 for Christian Aid since 1987. This year a street plant and cake sale on Saturday helped raise 530 and an annual paper quiz has already raised 350.
Libbie, a member of St Marys Church, said: I was born into Christian Aid really because of my faith, which inspires me to love thy neighbour, but I suppose my involvement really began when we moved to Purton and St Marys 40 years ago.
We are so lucky, we have so much. I feel for the refugee families who have had to leave everything behind, their homes, their culture, their lives through no fault of their own.
They are just like you and I, that could be us, we have to do what we can to help. We just all have to do our little bit, if everybody does then things change. People need to have a safe place to call home and Christian Aid reaches these people in a way that helps families and whole communities to get a foothold and lift themselves out of poverty."
The events continue with Libbie encouraging people to try out some Strictly Come Dancing inspired skills in a FitSteps exercise class and social, starting at 7pm on Saturday at St Marys School and an annual curry night will then be held at the Maharajah restaurant on 13 June.
Member of St Marys Celia Tweedie Smith, who nominated Libbie said: Libbie is enthusiastic, tireless and a wonderful encourager.
She motivates our village and church year by year to raise a significant donation for Christian Aid. She never asks for thanks, is willing to go the extra mile and works harder and more cheerfully than any of us to do a magnificent job."
Libbie was presented with her Super Organiser Diamond award after a fundraising breakfast at St Marys Church on Sunday.
Find out more about how you can help to change the lives of people trapped in poverty and affected by conflict and crisis this Christian Aid Week by visiting www.caweek.org.