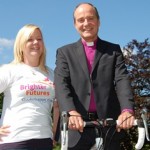 Bishop Lee is encouraging cyclists to saddle up for bike rides through Wiltshire in aid of Brighter Futures' 2.9m Radiotherapy Appeal.
Brighter Futures, Great Western Hospitals NHS Foundation Trust's charity, has organised Ride for Radiotherapy, in whichcyclists can raise sponsorship and ride on Sunday 20 September a 30-mile, 70-mile or 100-mile route.
Bishop Lee, who underwent chemotherapy at Swindon's Great Western Hospital (GWH) and then radiotherapy at Oxford's Churchill Hospital 18 months ago to treat Hodgkin lymphoma, will ride the 70-mile route.
Bringing radiotherapy to GWH
The appeal is part of a plan to bring radiotherapy treatment to GWH, so local cancer patients do not have to travel to Oxford as many do now. Money raised would help buy two linear accelerators, the equipment which delivers radiotherapy.
The 70-mile bike ride is the same distance a patient going to Oxford from Swindon has to cover daily for radiotherapy treatment.
A fantastic cause
Bishop Lee, a keen cyclist who rides at least 35 miles a week, says, "The Radiotherapy Appeal is a fantastic cause and what it will buy will greatly help the people of Swindon and Wiltshire.
"I am really looking forward to taking part in Ride for Radiotherapy - it's such a great idea and an opportunity for riders to cycle through the beautiful countryside whilst raising money for Brighter Futures."
After successfully completing treatment for cancer last year, Bishop Lee, a member of the Swindon Road Club, raised 13,000 for community work in Uganda by cyclingfrom John O'Groats to Land's End - covering959-mile journey in 13 days.
A difficult journey
The journey to Oxford which many Wiltshire cancer patients currently undertake on a daily basis for up to seven weeks is one that Bishop Lee knows only too well.
"I only had to go for two weeks for my treatment and was fortunate enough to be able to drive myself mostly," says Bishop Lee. "I know others have had to rely on friends, family or NHS transport to get themselves to Oxford for weeks on end, having to go to enormous lengths to receive treatment.
"I regularly meet people through my work who have cancer or have a family member or friend who do - it is something that troubles many people and I know first-hand what it is like.
"I know that the appeal has got off to a strong start and has already raised more than 100,000 and I really hope that the 2.9m target can be achieved."
Get involved
Jennifer Green, Brighter Futures' Head of Fundraising, adds, "We want Wiltshire's roads to be awash with Brighter Futures fundraising cyclists on Sunday 20 September. Ride for Radiotherapy will be such a fun event and I'm sure hundreds of riders will get involved.
"We have organised three routes - 30 miles, 70 miles and 100 miles, so there's something for everyone, whether you want to take a more leisurely ride or really challenge yourself by taking on the 100-mile journey. They'll all take in the beautiful Wiltshire countryside and hopefully we'll get a beautiful day for it.
"Places are limited so I'd encourage those who are interested to get in touch as soon as possible to avoid disappointment."
People can sign up for Ride for Radiotherapy byregistering online at www.entrycentral.com/rideforradiotherapy or by contacting the Brighter Futures fundraising team on 01793 605631 or via fundraising@gwh.nhs.uk.
Anyone wanting to donate can do so by texting SWIN29, followed by either 5 or 10, to 70070.
Stay up-to-date with all the latest news from Brighter Futures by visiting www.brighterfuturesgwh.nhs.uk, following @BF_NHS on Twitter or liking the Facebook page, Brighter Futures GWH.
Brighter Futures can be contacted on 01793 605631 or via fundraising@gwh.nhs.uk.
Take a selfie
Selfie-takers can still show their support for the Radiotherapy Appeal by posting photographs with themselves with a clock or watch on Facebook and Twitter with #TheTimeIsNow.