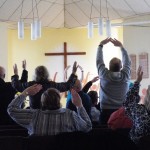 On Saturday 9 May at St Nicholas Family Centre in Yate, Prospects ministry groups from acrossthe Westcame together to celebrate Jesus resurrection witha day of workshops and celebrations. The theme for the day wasNew Life, Fresh Hope.
More than150 people came together from Bath, Bristol, Chippenham, Melksham, Swindon, Trowbridge and Warminster to take part in music, drama, poetry, prayer and craftworkshops, resulting in an afternoon of performances shown to members of their churches and the public.
Revd Ian Wallace, Team Rector of Yate Parish, says, "We felt very privileged to be able to host the Prospects Day. The enthusiasm and sense of joy of many of the participants was quite humbling and there was something very special about bringing the group together from so many different towns and church backgrounds.
"The most moving moment for me was when everyone used sign language to create a dance to a musical version of the Lords Prayer. Seeing everyone expressing themselves in movement together was truly special."
Myles Pilling,Volunteer Regional Coordinator for Prospects, reports on the day:
"The church was packed and we were treated to some very special moments. I will just share a fewof them. The music group performeda moving signed version of the song 'You are my hiding place', and one person, an elderly Downs gentleman, put his all into the signs. He was watching and following the leader intently. He may have got his timing out but there was no mistaking his intent!
"Simple is best. The prayer group had a prayer tree on which theyput their own prayers in the shape of flowers or leaves. The place roared with laughter when one person said he was sorry the party he voted for didnt get in! This was very appropriate as it was election week.
"But perhaps the greatest moment was when Matthew from the Warminster group who was the originator of the theme 'New Life, Fresh Hope', as well as leader ofthe psalm writing group, shared a poem about the event saying how much everyone there was an answer to his dreams and prayers for the last three years. Wow! God is good and wished to show himself through all people not just people with learning disabilities.
"As someone remarked to me, it is often difficult to get people to stand up and take part at the front, but at our event in YateI have seen how willing, easy and without shyness people wanted to stand up and demonstrate their faith.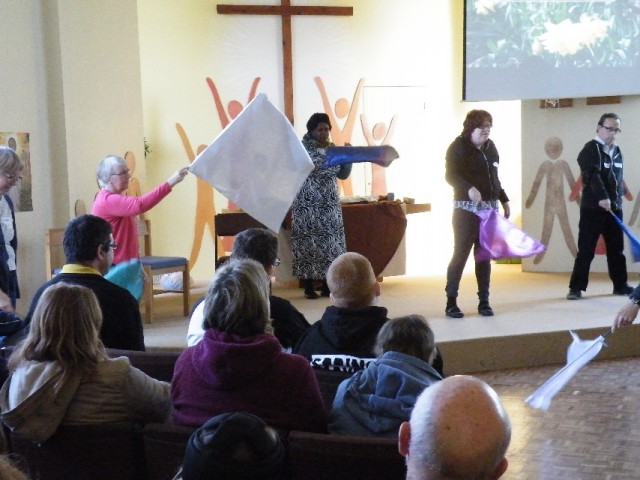 Flag worship led by the Swindon Prospects group[/caption]
"The Swindon group led the flag worship, demonstrating there is a wide rangeof ways to worship God and flags is just one of them. The drama group showed the resurrection part of the Easter story. And it was very funny to see Jesus realise he WAS alive! 'Im alive, I'm alive!' he said.
"The sense of joy in being together erupted in cheers and shouts every time a group did their activity.
"There was a purpose in having this away day and that is for the churches in Yate to start an initiative working with people with learning disabilities in their town. Watch this space for updates!
"Prospects exists missionally to help churches to form groups, as well as helping churches to form their own ministry to people with learning disabilities in the area and I end with Bens story (not his real name).
"Ben lives in supported living in a village near Yate. Benthanked me profusely for being an angel in our drama. He said this was the first time he had been in a church before and he liked it a lot! I saw Ben telling the vicar this as we packed up to go home. We must do this for Bens sake! For who else will do this? Ben has no church connections. Who is reaching out to him with the Gospel then! Could it be you or someone in your church?"