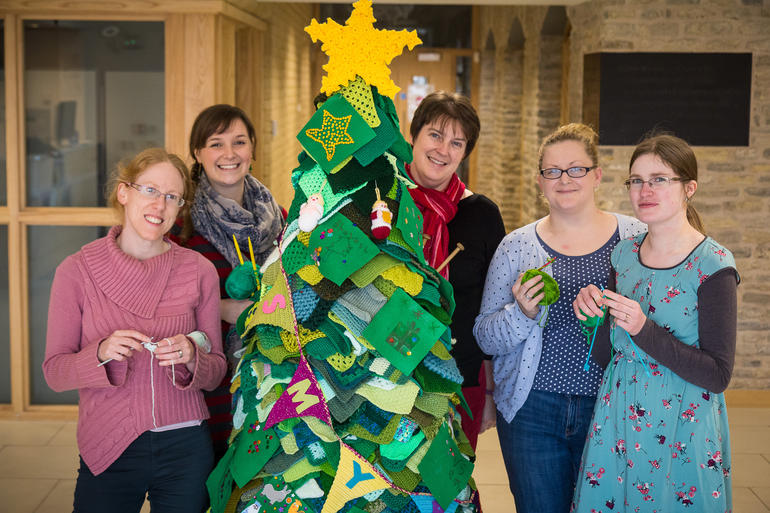 Knitters from a church in Bristol have not only created their own Christmas tree from yarn but when the decorations come down theyre recycling it into blankets for local homeless charities.
Over 800 woolly green squares have been knitted or crocheted and then stacked into a 6 foot tall Christmas tree by the St Michaels Yarn Bombers from Stoke Gifford.
Whilst thousands of real Christmas trees are recycled into compost - the knitted tree will be dismantled and sewn into at least 10 woolly blankets for two Bristol charities supporting homeless people.
The yarn bombing group has been delighting local people with surprise displays and decorations at community events in Stoke Gifford since early 2016. But when they launched the Christmas tree project they were joined by around 100 other knitters across Bristol and beyond. Church members, craft groups, family, friends and children produced squares. They were even sent three green squares from a knitter in Washington DC in the United States.
A total of 848 different green squares have been stacked into the woolly Christmas tree; 816 have been knitted or crocheted while 32 are made of felt and were decorated by children at the Messy Church which meets once a month at St Michaels, Stoke Gifford.
Kia Harris, one of the leaders of St Michaels Yarn Bombers, said: At St Michaels we strive to be the heart of the community, by living to make a difference. Involving so many people is helping us to celebrate Christmas as a whole community, and very soon our work will be making a real difference to homeless people in Bristol as well.
The group estimate they have enough knitted squares to make over 10 warm blankets which will be donated to Emmaus Bristol and the Julian Trust Night Shelter charities which St Michaels Church has supported for many years.
The idea originally came from a craft group in East Anglia, but has exceeded all expectations as it caught the imagination of knitters across the community in Bristol.
While the knitted tree is now finished, its not too late for more squares to be added to the project. Contributions need to be 6 inches (15cm) square, made from any yarn, in any stitch. Donations can be dropped into the St Michaels Church Office on North Road, Stoke Gifford.
Further details can be found at the group's Facebook page.