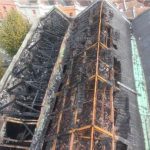 Representatives from the Diocese of Bristol, the Church Commissioners, Historic England and Bristol City Council met again at the end of January to progress work and plans on St Michael on the Mount without following the fire in October 2016.
Work has been done over the winter to secure the site, make it immediately safe and undertake surveys. At the latest meeting, the parties discussed clearance and repair proposals which have been prepared by architectural specialists appointed in the aftermath of the fire.
As a result, the Diocese of Bristol is moving forward a two stage approach. The first stage will be to deal with the clearance of debris on the site and this will include making safe any vulnerable masonry on the northern wall. As part of this process, there will be expert input to carefully sift and preserve any salvageable heritage items and ensure they are stored appropriately.
The second stage of the works will be to install a temporary approved roof structure. As much as possible of the original structure of the roof and the existing rainwater goods will be maintained and incorporated into the replacement roof. In addition to the roof work, stage two will also include much-needed repairs to the damaged stonework in the crypt.
It is anticipated that works will begin in late February and continue until the autumn. For the duration of these works, there will an ongoing need to restrict access to certain pathways at certain times. This is for safety reasons and to allow the transfer of debris from the church into skips. As these path closures are unfortunately causing some inconvenience to the public, the contractors will ensure that closures are kept to a minimum. The Diocese and its contractors would be very grateful for the cooperation of the public in ensuring that whilst any barriers are in place, that they are respected for safety reasons.
Once these vital repair works are completed, the Diocese and the Church Commissioners will be able to continue with their plans to find a suitable alternative use for the building. This will involve an initial stage of inviting proposals for suitable alternative uses, which is likely to take place during the later stages of the works.