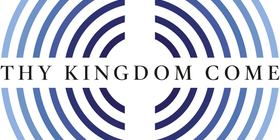 Thy Kingdom Come - 25 May to 4 June 2017
Join the global wave of prayer: Praying that people come to know Jesus Christ.
The Archbishop of Canterbury is calling Christians to join a wave of prayer across the UK and around the world - praying between Ascension and Pentecost, that people might know Jesus.
The hope is that, as Christians pray together, we will:
be transformed through prayer
be given new confidence and encouragement by the Holy Spirit
be effective witnesses to Jesus Christ
Resources
Thy Kingdom Come have produced a truly fantastic set of ideas and resources to encourage churches, families and individuals to pray.
In Bristol we will be sending a set of resources to parishes to enable them to participate, many of these resources can also be downloaded from the Thy Kingdom Come website.
It is our hope that every parish will join the movement by participating locally, perhaps choosing something from the range of resourced ideas prepared by Thy Kingdom Come.
This could be: hosting a prayer meeting, prayer walking their community, running a 24/7 prayer room, praying during the services, giving out the daily prayer Novena booklets to individuals, using prayer bands, getting creative with Messy Church prayers or giving Kingdom Kits or creative prayer journals to families.
Act now:
Visit the website
Put the dates in the diary
Get planning for your parish
Access/order the resources you need to make it happen
Please join this movement of prayer:
#Pledge2Pray at Thy Kingdom Come
Watch the Archbishop of Canterbury talk about Thy Kingdom Come: