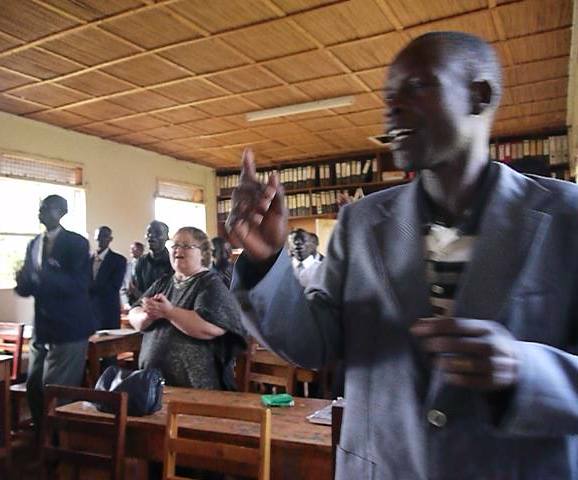 The Janani Luwum Theological College was the brainchild of the well known Archbishop of Uganda and was once a centre for theological education in Northern Uganda.
First founded in the 1970s, the college and staff were devastated by the death of their founder Archbishop Janani Luwum in 1977. Financial difficulties and political instability has meant that at times it has functioned as a refuge for people fleeing fighting between Government troops and the Lord's Resistance Army. In 1986 it became an official camp for internally displaced people.
Continued uncertainty led to declining numbers of students and fewer resources until eventually meaningful theological training ceased.
However the college re-opened in January 2013 and now trains lay pastors on a one year course, with international help with funding. It is anticipated that there will be stronger links with the Uganda Christian University in Mukono so that pastors from all over Uganda will be trained in Gulu.
A new principal has been appointed - American Sandra Earixson who recently graduated with a Masters Degree from the Uganda Christian University. Sandra is the only lecturer working full time; others are already full time leaders in the Church of Uganda.
In common with the whole of Uganda there is an acute shortage of trained pastors, especially in rural areas. Many of the older pastors are due to retire soon and there are not enough coming through to replace them. This is heightened in Northern Uganda because of the problems, until recently, of rebel activity of the Lords Resistance Army and also the need to work hard on the land to provide for their families. Some of the present students were not even able to complete their primary education.
Nevertheless when we visited we joined in joyful worship and celebration. The dancing and instruments are amazing. We went away inspired by a story of hope and possibility.
Article by Di Barnard