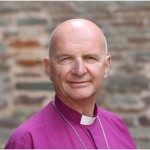 On Monday 14 July,the General Synod of the Church of England gave its final approval to legislation paving the way for women Bishops.
As Bishop of Bristol, Im truly delighted at the decision and, to be honest, my first reaction would be to say and about time too!
The debate today in York has been heartfelt and conducted throughout in a spirit of true generosity and, whilst I rejoice at this historic vote, equally I acknowledge the position of those of my colleagues who still in all conscience cannot accept women in the Episcopate.
Overwhelmingly though, I believe this is a message of great encouragement from the Church: a simple and straightforward affirmation of all our ministries; irrespective of gender, and in whatever discipleship we find ourselves called to in God's service.
I have always supported the ordination of women to each of the threefold ministries of Deacon, Priest and Bishop, and I salute now all those currently in our training colleges, women and men alike: may they may be emboldened by this decision and embrace it as the future leaders of the Church.
This has been an important day and an important decision has been made. Now as Church, we can get on with the really important business - of living out our common calling as witnesses to Jesus Christ.
+Michael Bristol
14 July 2014