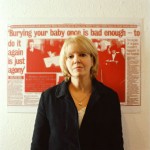 Visitors to Bristols St Mary Redcliffe Church on Doors Open Day on Saturday 12 September will see more than a masterpiece of Gothic Architecture and unique examples of the citys history.
This year they will also be able to view a thought-provoking exhibition of arresting images and personal narratives exploring forgiveness in the face of atrocity.
Entitled The F Word: Stories of Forgiveness, the exhibition draws together voices from South Africa, America, Israel, Palestine, Northern Ireland and England to examine forgiveness as a healing process on a journey of hope.
The exhibition also on permanent display in several countries around the world has been devised by The Forgiveness Project which uses real stories of victims and perpetrators to explore concepts of forgiveness. It also encourages people to consider alternatives to resentment, retaliation and revenge.
Revd Dan Tyndall,Vicar of St Mary Redcliffe says, "This exhibition of personal testimonies and portraits has provided insight and inspiration to people all over the world, from prisons to schools and from faith communities to corporate institutions."
Visitors to St Mary Redcliffe will be able to buy a catalogue containing some of the stories featuring in the exhibition.
Those unable to make it on Bristol Doors Open Day will be able to view the exhibition the following week. It will remain on display in the church until Sunday 20 September 2015.