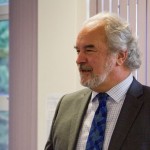 Earlier this year, the Diocese of Bristol appointed Rev Charles Sutton as Bishops Adviser for Self-Supporting Ministry.
We catch up with Charles to find out more about his role and what he's been discovering so far about the changing ministry landscape and what this means for the Church
Why are you particularly interested in the area of Self-Supporting Ministry?
I was licensed to All Saints Clifton in 2012 as Assistant Priest in a self-supporting capacity, and I became increasingly intrigued as to how self-supporting ministers fit into the life of the Church, especially as we are rapidly becoming such a huge part of the way the Church works. Here in the Diocese of Bristol, self-supporting ministers (SSMs) and ordained licensed ministers (OLMs) make up around half our clergy.
I also find it fascinating to hear how other SSMs live out their calling, at work and in the parish, and also how they engage with the Church of England, which is still structured around a stipendiary framework. This interest led me to being appointed Bishops Adviser. This is especially the case as I have worked in both stipendiary and self-supporting roles.
Whats your brief as Bishops Adviser?
I see this role as enabling a cultural shift from a point at which we categorise clergy as being either paid or unpaid to a place where we have a sense of One Ministry, where we see many clergy gifts and different patterns of fulfilment.
Ive led on a piece of research to explore the experience of being an SSM or OLM in the Diocese of Bristol. We had a great response to this and its helped us build - a good picture of whats happening locally. What is also exciting is that our survey is now being used by other dioceses and the results are turning out to be broadly similar.
This work provides a useful foundation on which we can shape further work around a changing pattern of ministry. We've published a summary report of the research, which represents a sort of snapshot in time. It has some great insights and some pointers to how we can move forward.
What are the key things this research into self-supporting ministry has shown us?
Whats been really positive has been the response to the Diocese deciding this was an area we needed to spend time exploring. We are taking this topic seriously, giving the SSM and OLM population a meaningful voice and, as a Diocese, we are in a leading position on this. We are recognising the richness of gifts contributed by both stipendiary and self-supporting ministers that support the Church in its mission.
The Diocese is gaining a good reputation, nationally, for the support and development we provide to stipendiary clergy. What we need to work on is how replicate this for self-supporting ministers. Also, as a diocese and Church, Id like us to be better at preparing ministers for changing roles, where the parish does not necessarily sit at the heart of what they do, and so transitions between roles become normalised.
This is not all that different here to whats going on in other diocese, apart from the fact we are in the process of taking action!
What would you most like to see us move towards?
Id very much like to see an easier exchange between stipendiary and self-supporting roles, as well as increased encouragement into this form of ministry and, indeed, some of the more senior clerical roles being applied for and obtained by self-supporting ministers.
Throughout your career as an organisational psychologist, you've worked with big corporates. How has this informed your role as a priest?
There are two factors important to me as a priest in secular employment. One, at a personal level, is that people are at the centre of what I do. Most people today see their work as the primary source for their sense of value or purpose and a key part of their identity. Part of my work as a consultant is to enable people to find meaning, value and purpose in what they do, and enable a more positive experience of work.
The other factor is opportunity or the unexpected. I was recently at a client dinner when one of the directors, completely out-of-the-blue, asked me about being a priest. This led to a long and serious discussion on the meaning and place of Mass and our human engagement with God. Who would have believed it!