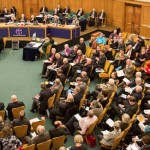 The General Synod of the Church of England took some significant steps forward in November in a set of sessions described as "completely different" by Bristol reps to the meetings of a year earlier.
In November 2012, the legislation that would have enabled women to become bishops in the Church of England famously failed in a process that Bishop Mike described as "disastrous".
However, a year has made a huge difference. Under Archbishop Justin's leadership, the Synod participated in a much more relational process in July. Rt Revd James Langstaff, Bishop of Rochester, chaired the Steering Committee that proposed a package that included the first draft of a House of Bishops declaration and a disputes resolution procedure.
The Synod overwhelmingly welcomed the proposals and the five guiding principles, already agreed by the House of Bishops, which underpin them.
In addition, the Synod approved a motion, moved by the Archbishop of York, to re-evangelise England, including the creation of a new Task Group. This will support diocesan and local evangelism, helping to equip Christians with the confidence to share their faith with others and, in the Archbishop's words, liberate the word evangelism to belong to the whole Church.
Synod approved a motion affirming the crucial importance of the CofEs engagement with schools for its contribution to the common good, and to its spiritual and numerical growth. It also committed itself to actions at various levels of the Church.