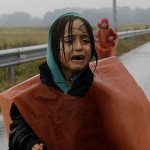 Christians and churches across our diocese are keen to support those affected by the escalating refugee crisis. In an interview with BBC Radio Bristol recently, Bishop Mike said he and his wife Anthea are exploring the possibility of providing accommodation for refugees in their home, and he encourages others to consider how they might best offer assistance too.
Here we bring together different ways people can give their support. If you know of any other initiatives, please do drop us a line and well add it to the list.
Work together Trinity College Bristol in partnership with the Bristol Baptist College is organising a theological symposium exploring A Christian Response to the Refugee Crisis on Thursday 15 October 2-4pm.
Christian Action Bristol is planning a meeting about asylum seekers and refugees on Wednesday 21 October from 12.30pm to 2pm at City Road Baptist Church, just off Stokes Croft. This event will bring together anumber of groups in Bristol already engaged with this challenge to look at what is already being done and work out how to move forward from there together.
Donate
Church of England parishes have a particular opportunity to support the Anglican communities across Europe which are stretched to the limit in providing practical help to refugees. Donations to help the Diocese in Europe provide emergency medical support, food, shelter and pastoral care for the refugees are being channelled through the Us Rapid Response Fund.
Here is a list of charities working to support refugees who would appreciate your donations:
BHN extends solidarity to people seeking asylum and experiencing destitution through accommodation and creative community involvement.
BHN provides full board accommodation in host households or in its large house for men in Bristol and community volunteering opportunities and cottage enterprise in solidarity with both male and female asylum seekers experiencing destitution.
BRRprovide a place of welcome in Bristol where asylum seekers and refugees can meet and be supported to play a full part in the life of the wider community and also campaign for the human rights of refugees and asylum seekers.
b.friend enables volunteers to befriend asylum seekers and refugees through a regular 1-2-1 supportive partnership. Volunteers are giving initial training and on going support throughout their befriending and are expected to commit to the project for a year.
Refugee Action
For 30 years, Refugee Action has been standing up for people who've fled persecution, violence and harassment.
Borderlands in Bristol works especially with people seeking asylum in the UK and refugees from other countries; we support people who have been trafficked and trapped in domestic service or the sex industry.
Christian Aid
Christian Aid is the official ecumenical development agency and it is working with churches and other agencies in supporting humanitarian efforts taking place in Europe and the Middle East.
The Tearfund Refugee Fund has been set up to support their vital work in Europe as well as helping some of the millions who are displaced or refugees within the Middle East itself.
Doctors of the World UK is part of the global Mdecins du Monde network, which delivers over 300 projects in more than 70 countries through 3,000 volunteers. They have set up an appeal for donations to help support their work.
Seeking Sanctuary via Caritas Social Action Network
CSAN is the social action arm of the Catholic Church in England and Wales.
An appeal directly to support refugee children across Europe and in the countries they are fleeing from to provide aid and support.
MOAS is a registered Foundation based in Malta. It is dedicated to preventing loss of life at sea by providing assistance to migrants who find themselves in distress while crossing the Mediterranean Sea in unsafe vessels.
The official fundraising campaign for the UNHCR.
Wiltshire Community Foundation
Wiltshire Community Foundation is raising money to provide refugees with access to telephone, television and broadband, to help them keep in touch with family and friends far away.
Offer accommodation and hospitality
Many Local Authorities are making plans to receive new refugees. There will be many opportunities to help; as we hear of these we will update this page.
Offering accommodation in your own home may be a possibility but please seek advice beforehand. If youre in Bristol, the Bristol Hospitality Network or Bristol Refugee Rights are good starting points.
Home for Good is a well-known Christian charity, which is currently working with many local authorities across the UK and are compiling a database of people who have space in their homes and may be interested in exploring further the possibility of fostering unaccompanied asylum-seeking children for a few days in an emergency, short term or long term.
Welcome Boxes is a great project helpingchurches to reach out to refugees and offer them friendship and assistance.It has been successfully run over the past sixyears in Derby and is a simple but effective model which equips and mobilises churches to get involved with some of the most disadvantaged people in their area.