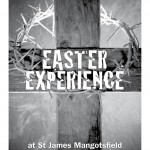 As churches celebrated the heart of the Christian message this Easter, a number of churches have been finding innovative ways to share the story with children and adults alike through interactive Easter events.
Here we focus on the Easter Experience in Mangotsfield and Emersons Green in South Gloucestershire.
St James, Mangotsfield hosted a two week Easter Experience reaching over several hundred children from local schools, parents, teachers and people from the community with Easters true meaning. As a result, adults have spoken of how they have been moved as Easter has been made more real to them, the church has grown in confidence and outreach and stronger connections have been built with local schools.
Revd Teresa Taylor, Priest-in-Charge since September 2012, and Sally Sibley, School-Community Link Worker in Emersons Green, worked together on a two week programme in the run up to Easter.
Over 700 children from three primary schools participated in half hour sessions in the last week of term. Welcomed to the sound of cheering and donkey clip-clops in the church porch, they journeyed through the events of Holy Week as they travelled round the church, with explanations at different points and time for questions.
The journey progressed through different stations, enhanced by sound effects, music and images, which included foot washing, handing out bread and a grape, reflective prayer time in Gethsemane, a chance to write and leave a prayer at the foot of the cross and finally a look inside the empty tomb the children understood that the cross was not the end of the story.
During Holy Week, St James opened for the community offering refreshments, childrens craft and a reflective haven with space to think and pray.
It provided several opportunities to demonstrate a Christian presence in peoples lives through simple acts of conversation and hospitality, said Sally, as well as an opportunity to explore faith journeys and an understanding of Holy Week.
During the two weeks, a successful Messy Church took place using the Easter Experience, the Palm Sunday service revolved around the stations and the joint service with the URC on Good Friday ended with the congregation visiting the Experience.
Sally works from the base of Mangotsfield CofE Primary School as part of a diocesan project for new housing areas funded by the national Church of England, linking community, church and schools in the Emersons Green area.
The Easter Experience has provided Mangotsfield CofE and other schools with valuable learning and spiritual growth, concludes Sally.
It will inevitably act as a springboard for further work. It has also helped the congregation at St James to grow in confidence and teamwork we have all been stretched and grown as individual Christians.
Other Easter initiatives aimed at school children in the Diocese have included Easter Uncracked in East Swindon, the Easter Trail in Redland and the Easter Experience in Patchway.