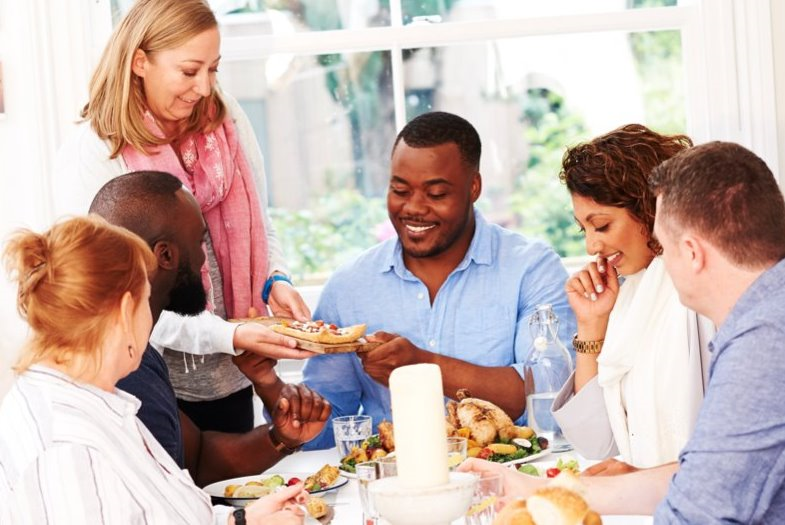 This autumn bring people together with food
What is Share a Meal?
Share a Meal is a delicious opportunity for you to get together with others this autumn, to share good company, food and conversation and to help vulnerable children at the same time by supporting the work of World Vision.
Mealtimes can be life-giving, comforting, sociable, even adventurous. But food can also be challenging, frustrating and unsatisfying particularly if the meals you prepare to nourish your family just arent doing their job. A full belly doesnt mean a healthy body.
How to host Share a Meal
Request your free Share a Meal pack, in it youll find everything you need to make hosting a party with your friends easy. It includes invitations you can personalise, an exclusive recipe from Great British Bake Off baker and World Vision Ambassador Selasi Gbormittah and thank you cards for your guests too.
Choose whether to get your pack by post or email, its completely up to you.
And once you've got your pack simply pick a date, invite your friends and let the fun of planning your Share A Meal begin.
Request your Share a Meal pack from World Vision here.
I hope youre as excited as I am about taking part in Share A Meal... together you and your friends can make a difference for the most vulnerable children. - Selasi, Great British Bake Off contestant and World Vision UK ambassador
About World Vision
World Vision is the worlds largest international childrens charity, working to bring real hope to millions of children in the worlds hardest places. And we do it all as a sign of God's unconditional love.
Poverty, conflict and disaster leave millions of children living in fear. Fear of hunger and disease. Fear of violence, conflict and exploitation. Fear that robs them of a childhood.
Our local staff work in thousands of communities across the world to free children from fear. They live and work alongside them, their families and communities to help change the world they live in for good.
Our worldwide presence means we're quick to respond to emergencies like conflict and natural disasters. We also use our influence and global reach to ensure that children are represented at every level of decision-making.
We can do this because people like you are prepared to sponsor, donate, pray, campaign or simply share the stories of boys and girls who have been given hope for the future.