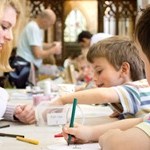 In 2013, Archbishop Justin Welby stressed the centrality of schools to the Church's mission to the nation. Director of Education, John Swainston, explains how churches can engage with, support and enrich the life of all schools.
If we want Christ to be at the centre of the communities we build, we may have to take Christ to the centre. And if we believe in whole communities, we cant ignore other key players. We probably imagine that the goal is to get people into our churches. But so often it is acts of service which are the testament to our living God.
Schools have such a significant role in the life of a community and your church can make a great difference.
Many who are responsible for children in schools are wary of visitors, especially from faith groups. Developing a relationship is all about trust, built by just being there and being of service.
Some ways of helping a school may not be explicitly Christian, but service itself is emphatically of Christ. It is our calling to enrich the soil around us, nourishing others and making Christ known.
Here are some examples of how the Dioceses Department for Children and Young People can support you in this.
Church-school links case studies
The brochure of case studies is now available online here and in print. It outlines the stories of how relationships developed between churches and all kinds of schools, and what impact they have had. Thereis guidance on witness in the school context, including new takes on classic routes and some completely novel approaches.
It is hoped that the brochure will inspire us all to look at ways to serve children, parents and staff, and make our faith known.
Curates in Schools programme
The Curates in Schools programme gives newly ordained clergy an insight into a whole new area of ministry. Curates feedback expressed astonishment at the pressure that teachers work under but also excitement for how many different ways churches can engage with schools and for how much schools can value the involvement of local churches.
This programme will be developed in the coming months as those in their second year of curacy look ahead to this experience.
Weve said before that our prayer is to see churches more involved in schools. We've been inspired by the research we've done on so many blossoming relationships and we have some great stories of how going into schools has led churches deeper into wider communities.
Now we ask you to join us in prayer and action, making God's love known in the schools where you live.