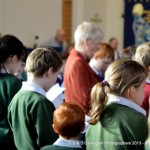 Bishop Mike and senior church leaders from across Bristol are encouraging congregations to form new links with their local schools through the Open the Book Bible stories programme.
Run by the Bible Society, Open the Book equips groups of Christians to tell Bible stories in primary school assemblies.
Senior denominational leaders were called on to get behind by the scheme by the George Muller Charitable Trust's Jonathan Lee, whose particular focus is helping Bristol churches develop supportive relationships with their local schools.
Many churches in the Diocese are already finding Open the Book an imaginative and inspiring way of reaching schools - read this case study to find out more.
Of the joint initiative, Bishop Mike says:
The stories of the Bible are the basis for our understanding of who God is that God loves us and creation. When so few children these days are aware of even the Easter story, its so important that we stand up to share the Good News we believe in.
Open the Book is a brilliant scheme to give Christians confidence in telling God's story. Its an excellent way for congregations to serve the schools in their parishes and it reaches out to some of those who know next to nothing of the Gospel at a time when RE in schools is being increasingly marginalised.
Support for new and prospective Open the Book teams is now available through Jonathan Lee, who is providing local coordination. He is available to meet with clergy, PCCs, schools and children/youth teams, and to provide advice by phone or email. To find out more please contact him at jonathanlee@mullers.org.