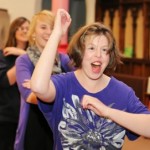 Last monththe Christian disability charity Through the Roof launched itsnew Roofbreakers scheme.
A Roofbreaker issomeone who desires to enrich the church through being a bridge enabling disabled people to belong and contribute to church, and help the church fully involve disabled people.
A Roofbreaker will:
build friendships between disabled people and church members
connect disabled people with local Christian-led activities
serve the church to enable disabled people to participate more fully.
Individuals are invited to sign up to become a Roofbreaker and Through the Roof will in turn support them with a range of resources aimed to help them make a positive difference in their church.
In the Diocese of Bristol we wish to support people in becoming Roofbreakers and will be working with Through the Roof to support them.
Find out more at www.throughtheroof.org/a-new-year-a-new-season-for-disability-ministry/