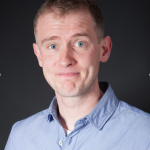 Clergy from across the South West took part in a special, one-day comedy workshop at the Christian Resources Exhibition in Exeter. Among these was Revd John Monaghan, Curate at Malmesbury Abbey.
John says, I trained as a physiotherapist, married an Anglican minister and then became one myself two years ago. There's a lot more colourful rhetoric and humour in the Bible than most give credit for, and for good reason. Humour is a wonderful tool in communicating any message, and as preachers and communicators of the Bible, its something we should be developing as part of our craft.
I'm not particularly good at stand-up, but I do love trying to make people laugh, and loved the opportunity to be able to learn a few tricks of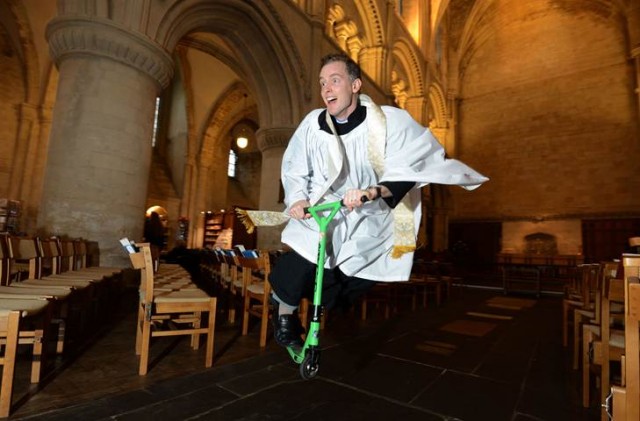 John Monaghan performs in Malmesbury Abbey's annual skate park
John talked about his experience at the comedy workshop on BBC Wiltshire this week and you can listen to his interview with Simeon Courtie via iPlayer (1 hour 9 minutes in) until 13 March.
In his BBC Wiltshire interview, John says, The workshop was a great laugh. A professional comedian, Bentley Browning, was with us for the day and took us through the various aspects of a comedy routine. It wasnt about using one-liners or using other peoples jokes from the internet, it was more about looking at our own material, our sermons, and using a few really simple techniques to make the message a bit more fun, less boring and more memorable.
Humour is an effective and powerful tool in any sphere of life, and particularly in sharing the Christian message. Were not just trying to tap into peoples minds; were trying to appeal to emotions. Sociologists long ago proved that people make decisions and are most motivated, not just based on information, but by how they feel and how theyre made to feel. Its not about manipulation but tapping into who they really are.