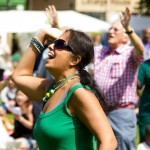 In the last couple of years,Churches Together in Greater Bristol (CTGB) have helped set up three city-wide gatherings in the open air, under the banner of Together for Bristol.
The Party in the Park in 2013, for example, saw about 5,000 people gather at Castle Park as the Christian community blessed the general public with a fun day in the sun, including many family activities and free ice creams and hot dogs.
In 2015 and beyond, rather than have another city-wide gathering, CTGB is encouraging local groups of churches, including Churches Together groups, to engage with and bless their local communities in green spaces, such as parks, commons or squares.
This can range from having a stand at an existing community gathering in the park, to setting up a whole weekend of community action linked to the Noise!
Here are some examples which are already happening across the Bristol region, with the name of a person to contact if you want to find out more:
C in the Park, Downend
Paul Peterson:
Sunday Funday, St George
Andrew Yelland:
Ashley (ACTS)
Phil Watkins:
The Noise (May Bank Holiday weekend) has Family Fun Afternoons at Barton Hill, Easton, Horfield and Lockleaze, Lawrence Weston, Sea Mills and Southmead and is wanting to expand to other areas in the future. To find out more,contact Esther Legg-Bagg at esther@thenoise.org.uk.
Also be inspired by a national initiative called The Biggest Birthday Party Ever, for guidance and resources for setting up a gathering, especially at Pentecost.
For help with setting up Sport activities, please contact World Sport Ministries at bristol@worldsportministries.com
If you are interested in having a Salvation Army brass band, please contact Ian Mountford on ian.mountford@salvationarmy.org.uk.
So, whether you are starting by setting up a stand, or are wanting to do something bigger, why not starting think about how you can engage with your local community in the open air in 2015 and beyond?
Please can you keep in touch with Roger Allen at CTGBconcerning any further suggestions or actions you take linked to this idea: email roger.allen91@gmail.com.