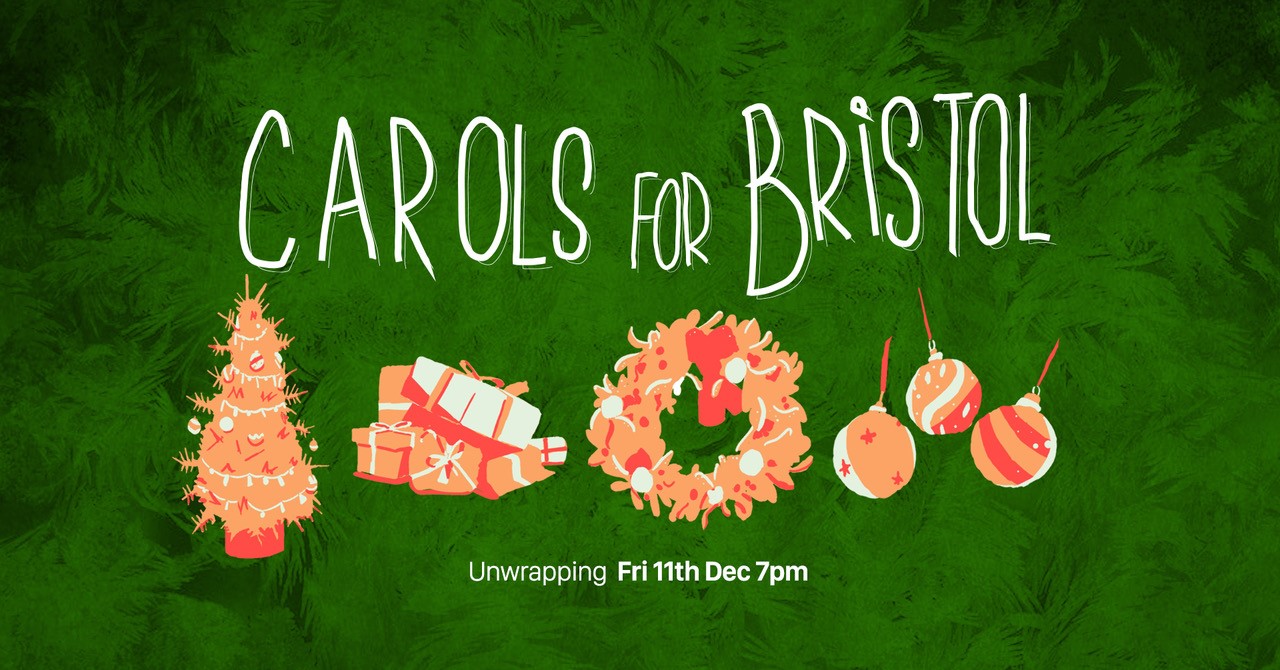 A city-wide online Carol service made by and for the city of Bristol.
Premiering Friday 11 December.
Featuring award-winning musicians, public figures, local schools, NHS workers, representatives from local charities, and many more, Carols for Bristol is a direct response from some of Bristol's churches to the difficulties and uncertainties faced by all of Bristol in 2020.
With COVID-19 restrictions meaning that many people who would normally attend carol services in churches across Bristol won't be able to do so this year, a group of church leaders and volunteers across the city have brought together a diverse range of voices in this virtual service, which will be first shown on YouTube at 7pm on Friday 11 December, and then available there afterwards.
The carols will be performed by ten local schools and the Cathedral Choir, with the addition of a stunning acoustic version of Silent Night sung by Bristol-based musicians Elles Bailey and Lady Nade. Elles Bailey won Artist of the Year at the UK Blues Awards 2020, and Indie-Folk-Americana singer-songwriter Lady Nade's latest single was recently nominated for Song of the Year at the UK Americana Awards. They will be going on to release the track as a single in aid of Shelter on 18 December.
With messages from Pat Lam (Head Coach of Bristol Bears) and Marvin Rees (Mayor of Bristol), the readings come from representatives of local charities and community groups, with the final, moving, reading coming from a range of NHS workers, from cleaners to consultants.
Mayor of Bristol Marvin Rees said:

"Carols for Bristol is such positive response to the pandemic and I'm so glad to be taking part alongside many others from across the city. This event reflects, in part, the city's togetherness and a hope for the future."
And Pat Lam, Head Coach of Bristol Bears, said of the project:
"I'm fully behind this city-wide initiative to connect Bristol after such a difficult year for so many people. Carols for Bristol is a chance for everyone to sing their hearts out from the comfort of their own homes, knowing they're joining thousands of others at this festive time: From the school choirs to contributions from the NHS and local charities, it really will be an event not to miss."
The blessing will come from Bishop Renford Brown (Chair, Bristol Black Churches Council) and The Rt Revd Vivienne Faull (Bishop of Bristol), and there will also be short Christmas messages from across Bristol's communities, including from the fire and police services.
There is also a spoken word piece, written especially for this online service, written and performed by Ian Wedd.
The idea originally came from some of the congregation of Christ Church Clifton. Rev. Paul Langham, Vicar of Christ Church Clifton, said:
"I've been deeply humbled by the fact that so many people, organisations and agencies have been so encouraging and enthusiastic: a very special mention must go to the film production companies and freelance editors who have offered their time free of charge to put it all together: they may not be seen on screen, but without them, this wouldn't be happening at all.
"Carols for Bristol truly is an initiative from Bristol, for Bristol, and my prayer is that it will bring a message of hope to our City and its communities, as we celebrate the ONE who shines eternally even in the darkest of times."
Register your interest now by visiting www.carolsforbristol.co.uk
The film will go live on YouTube from 7pm on Friday 11 December.
We would love to see any pictures of you watching or joining in with the service, please do share them on social media using #CarolsforBristol.