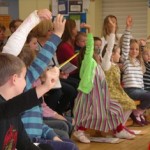 A group of parishes in North Wiltshire developed their links with local schools by having a schools celebration service on Back to Church Sunday.
Following our Lent Groups in 2013, the Draycot Benefice recognised that one of our main priorities was the four church schools within the benefice.
We decided to try something new and to hold a joint benefice service to celebrate these schools, and to encourage church members to pray regularly for each school. We advertised widely, and went into the schools to encourage the children to create prayers and drama for the service.
At the end of September, over 80 people came together on a Sunday morning at Langley Fitzurse school, North Wiltshire.
The service was led by guest speaker, Revd Alison Love, a local school teacher and curate, and Katherine Bloomer, a Licensed Lay Minister in the benefice on the theme of the wise and foolish builders.
We thought about what we build our lives on, and the important foundations provided by church schools, teachers, Values for Life and our local communities.
We enjoyed worshiping and sharing communion, using one of the new services devised for when many children are present. At the end of the service each congregation took away a prayer card for their local school, and each school had a special candle to use during the year in their collective worship, to remind them that they are being prayed for.
Parents, children, staff and church members said how much they enjoyed the service, how welcomed and supported they felt, and could we make this an annual event, rotating around the schools.
It was a lot of hard work, said Katherine Bloomer, but worth it seeing the hall packed with happy, smiling faces. It was particularly encouraging to see how relaxed the children were because they were in a familiar space, and to welcome families who would otherwise not come into church. It was in fact Back to Church Sunday, but we went back to school with God instead!"