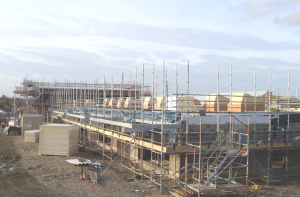 The Diocese of Bristol Academies Trust is opening a new primary school for the beginning of September 2016.
Ridgeway Farm CE Academy is at the centre of the new Taylor Wimpey housing development near Purton Village, Wiltshire, on the edge of Swindon. The Trust, which already runs successful primary schools in Bristol, Swindon and North Wiltshire, is working with Mrs Carly Luce, who will be joint headteacher of Lydiard Millicent CE Primary and Ridgeway CE Primary Schools. The headteacher and the two school teams will work closely together to transform the new building into a successful, nurturing and creative primary school.
Places are available in all year groups to pupils from reception to year 6. To register for a place visit the Wiltshire school admissions page. You can make an application for preschool children or children already in school but please consider this decision carefully and in consultation with the school your child currently attends. We advise against moving a child who has already settled, without good reason.
Would you like to get involved?
We welcome potential governors and volunteers from the local community. Becoming a governing body member involves helping to lead the school. Or perhaps you would like to lend a hand in the school before or after opening, helping out with a wide range of projects. It does not matter if you havent had any dealings with education since you were at school yourself. A passion for childrens learning is much more important.
All teaching and support roles are being advertised through: eteach.com
Keep informed by joining the DBAT mailing list: enquiries@dbat.org.uk
For more information about DBAT, visit their website: dbat.org.uk