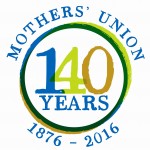 The Mothers' Union is celebrating its 140th Anniversary in 2016 with a special service at Bristol Cathedral.
The celebration on Saturday 23 April will see the Bishop of Bristol presiding. Among the guests who are expected to attend are the Lord Mayor of Bristol and the Mayor of Chippenham.
The Mothers Union is the worlds largest lay Christian membership charity. This year marks 140 years of faithful outreach to families of all faiths and none. Since 1876, when Mary Sumner first brought together parents in her own Hampshire parish to build their confidence in bringing up their children, it has grown to an organisation of over four million women and men in over 80 countries of the world, promoting stable marriage, family life and the protection of children through praying, enabling and campaigning. Prayer is central to the work of Mothers Union and each day, at midday, members pause to pray. The Wave of Prayer is a continuous expression of their commitment in prayer to each other in this country and worldwide.
Work carried out in the provinces includes marriage and relationship support, dealing with problems of poverty of opportunity with Literacy and Financial Education programmes, vocational training, health education, care for vulnerable adults, prison work, community support, advocacy and campaigning and provision of relief. Thousands of people benefit each year from the work done by Mothers Union members in their communities.
The Mothers Union was first established in the Bristol Diocese in 1898 when there were 12 Branches and around 400 members. Today there are 34 branches and 720 members.
Members support our Diocesan Projects either by volunteering or by raising funds and giving donations. There are 82 members who volunteer to be at Bristol Cathedral so every week day visitors are met and made welcome by MU members. MU members started the Friends for Parents scheme at Bristol Childrens Hospital providing a friendly face, supplies of tea and coffee and practical help for parents who arrive from all over the country. Donations of toys, clothes, sometimes furnishings (for the RISE project in Chippenham), tea and coffee (for Friends for Parents in Bristol Childrens Hospital), rice and tins of fish (Asylum Seekers in Bristol) come from all over the Diocese and many members are busy knitting childrens jumpers to go overseas to orphanages, to refugees and others in need. Some of our jumpers were taken to Nepal only a few weeks after the earthquake there had devastated the country. Also our jumpers were being given to refugees in Europe sometime before they became headline news. This year the Mothers Union will provide coaches for a day by the sea for families from deprived areas across the Diocese, meaning that children whove never previously seen the sea will enjoy a day at the seaside.
Every parish linked to a Mothers Union branch benefits from the help MU members give to a wide range of activities including supporting Wedding couples and families who bring children for Baptism, taking on leading positions on Parochial Church Councils, and providing tea and cake at various functions. In North Wilts teams go into school with Open the Book and in several churches the Mothers Union members are key to the running of Messy Church or Sunday School activities.
Please contact Aurea Hart, Diocesan President (aurea.hart@gmail.com or 01225 891453) for more information.)