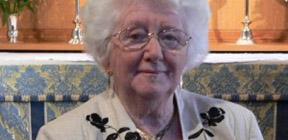 Margaret Williams, who became theDiocese of Bristols first ever female lay minister 40 years ago, has been awarded an MBE in the Queens New Year Honours for 2015.
Margaret, a retired headteacher formerly of Lainesmead and Oliver Tomkins primary schools moved to Swindon in 1955 where she became active with Christ Churchand went on to becomea lay minister in 1974.
Margaret has known about the honour for six weeks, for which she was nominated by a team of colleagues at Christ Church, including the church's vicar and area dean, Simon Stevenette. The honour recognises heroutstanding voluntary service to theDiocese and the Swindon community
Margaret says, I was surprised because Im sure lots of people have done good things and I dont consider myself to have done great things, Im just an ordinary person. Perhaps having been a first female lay minister in this area 40 years ago, I have got stamina.
Its such an honour. This year is becoming a really special one, as the Church has achieved the ultimate. The first woman bishop has been appointed. I was the first piece in the jigsaw 40 years ago in this area. Its an honour to have been recognised for that.
Revd Canon Simon Stevenette comments, "We are absolutely thrilled for Margaretand overjoyed that heramazing years of voluntary support for our Diocese and Swindon have been recognised with a national honour."
There wasa special quarter peal of bells in Margarets honour at Christ Church on New Year's Eve.