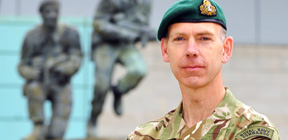 Congratulations to Revd Martin Gainsborough who wasawardedhis green beret in May, following 13 months of gruelling training as a Commando with theRoyal Marines Reserve Bristol.
As a Marines chaplain, it was expected that Martin would complete his full Commando training,including all aspects except for carrying weapon.
Martin, who is also half-time Priest in Charge of St Luke's in Barton Hill and half-time professor of politics at the University of Bristol, has trained with the Marines at weekends and in the evenings for the last year, with the course culminating in a tough final fortnight, with one week living 'in the field' in Dartmoor and then a week of Commando tests such as intense assault courses.
On completion of a 30-mile march across Dartmoor, Martin was finally delighted and relieved to receive the celebrated green beret. He's most certainly a vicar not to be messed with!